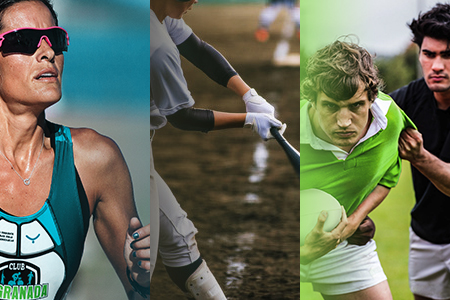 We are the most qualified in the science of optimizing athletic performance for ALL sports and it is what we are known for! We also specialize in training junior athletes from age 8. We provide CUSTOMIZED or team training as well. We guarantee our program will put you at that 'next level' of athletic performance!
At BODY SPECS LTD we understand the importance of maximizing each athlete's physical abilities, developing long-term prospects, and building training, rehabilitation, and nutrition services for sustained success.
The programs are progressive. That means that no matter how long (years) you are training at BSI we redesign the program based on your current physical and performance goals. This means you will always be able to improve your performance EVERY season.
ATHLETE EVALUATIONS:
Athlete evaluations include a battery of tests evaluating each athlete's current physical abilities and weaknesses at a BODY SPECS LTD or team facility. Athlete evaluations may include:
Performance testing
Functional mobility observation
VO2 sub-max cardio strength
Body composition evaluations
ATHLETE EVALUATION AND INTERVENTION:
This includes the athlete evaluation services above plus upper and lower quarter functional examinations for further programming individualization. We provide solutions for individuals or groups of athletes based on their needs and team goals.
BODY SPECS SPECIALIZES IN:
Functional training programs that challenge/develop coordination, balance, stability and power
Original functional stretching strategies
Junior Athlete training & conditioning from 8 years of age
Qualified sports injury management, prevention and treatment
Strength and conditioning for optimizing athletic performance
Superior and original general fitness training programs
Specialized strength and conditioning programs for women and junior female athletes
We provide the MOST innovative fitness instruction ANYWHERE guaranteed
In addition to the "Athletes Evaluation and Intervention" offerings, the injury management system includes injury trend analysis, injury management program evaluation, new program implementation, individual clinical exams, analysis, and treatment solutions.
 CONTACT US!
Our team is ready to help build you up and provide the experience you deserve. Please call us today or stop by our facility and say hello. Contact us for more information on our FREE TRIAL.
Our Location:
3796 Plaza Drive
Ann Arbor, MI 48108
* Unlimited Hour
THIS is the most economical package we offer. Highly recommended for sports performance training & conditioning, and weight loss goals. TAKE IT TO THE NEXT LEVEL, BSI style! Go all in and get the TOTAL PACKAGE of our award winning training and conditioning programs!
* Unlimited 1/2 Hour
Not quite sure if you want to make the commitment but want give it a try?. Then this is a good start! This is an IDEAL package especially if you are using other training methods ie, yoga, swimming, biking, running, other sports but you want something to 'upgrade' your training 'IQ'!
* Trainer Flex
(for former members)
Optional $50 add-on

A new way to BSI membership. If you are a former member who wants to train at our award winning facility but funds are tight or the schedule is too hectic, then the TFLEX is for you!!
MOBES On The Go
(taping and joint stretching)
$
10
/MOBES taping or stretching session
Need not be a member to participate.

We will be able to utilize not only years of clinical expertise but 4 different styles of taping (strapping) methods restoration stability to reduce joint stresses and promote efficient healing! Mobesis short for mobilization. It is a clinical technique that requires calibrated manual manipulation of the joint to improve range of motion and promote healing. Very effective with taping!
Functional / Injury Assessment
Specialized assessment by Skip with a plan for recovery! This is recommended before starting a training program.
Family Add-on
$85 (per 2 person)
$75 (per 3 or more persons)